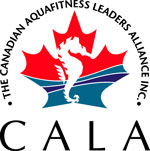 416-751-9823
Upcoming Events

CALA is currently offering online training through ZOOM live and FACEBOOK independent learning opportunities.

---

Important:

If the training event you are interested in attending is not listed, please contact CALA at 416-751-9823 or cala_aqua@mac.com to discuss your training requirements or interest in hosting.
To recertify you require 8CECs per year. If you have more than 8CECs in a year you can bank them for future use. CALA grants 1CEC for 1
hour of training. You can petition CALA for CECs from other related training. doc pdf
No refund or credit for withdrawal from CALA Events. Registration fees may be used toward future CALA events at the discretion of CALA Management, less an administration fee. CALA manuals are final sale and cannot be returned for a refund/credit.

---

Scroll through the list of scheduled CALA Training Events

CALA offers the following Continuing Education Opportunities (CECs). CALA education is accredited by canfitpro, YMCA, YWCA, CFES CPTN, BCRPA, SPRA, OFC, NSFLA. Contact AFCLA to petition CECs CEC petition application CALA Workshops, and Conferences are open to CALA members and non-members. Therapeutic Recreation Ontario (TRO). If you take CALA approved courses and earn CALA Education Credits (CECs), you may now use them as credit towards TRO registration under the non-TRO-sponsored event category.

CALA in Action


Instructors Practicing
(video)


Charlene demonstrating
(video)

---

---

Feedback on CALA Training (Courses and Workshops)

Finally the 'civilized' world is catching up with what ancient societies recognized the "Healing Power of Water" and practiced various forms of water exercise for centuries. Movement in water offers multidirectional resistance in a non impact environment. Water supports the body and cushions movement. When the water is warm enough, the pain cycle is interrupted and the healing process is encouraged. Aquatic Post Rehabilitation is not new. Recently, there has been renewed interest in water as a therapeutic means of healing. Health Care Providers, (physicians, chiropractors, physiotherapists, OT's, massage therapists - to name only a few) in the 'know' are referring patients to exercise in water. The business opportunities are immense. With certification in Healing Waters, you can expand your business, bring relief to so many people and contribute to the health and well being of your community: win-win-win. Charlene Kopansky, Founder and President of CALA Inc.