Connecting the Past and the Future: Verdun Bourdon
If you're Verdun Bourdon, you are not retiring to a rocking chair or spending a lot of time next to the fridge. He's made a third-age career teaching others what he knows about health and fitness. He's done it the best way--by example--in person.
---
What causes Leg cramps during aquafit
---
Peterborough ON - CALA Certified Leaders Building a Centre of Excellence
---
CALA Antigua is launching Prescription Blue!
A Mind move and CALA inspired Water-Based workout in the ocean.
---
Thanks to Jessica Jonas, Aquatic Supervisor for hosting the course and to Jane Jones, for doing such a great job facilitating the materials. Hosting a CALA Event is an opportunity to generate revenue.
---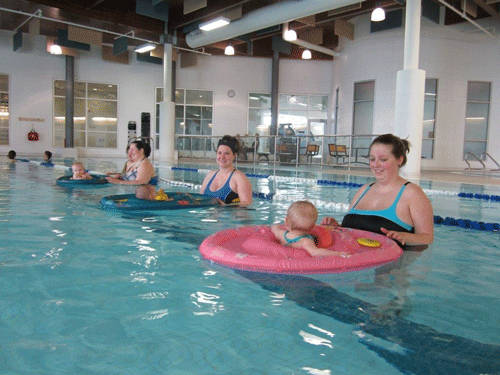 CALA has received a request to offer a Diaper Fit Workshop. Is anyone interested in Hosting a workshop at their facility? Is anyone interested in attending a Diaper Fit workshop? Please contact CALA. Diaper Fit is a regular Aquafit for moms or persons with a baby 6 month to 2 year. pictures
Certifications
1. Vertical Water Training (VWT) - pre-requisite
2. Select CALA Specialty Certification Path
3. Become a CALA Trainer, Assessor or Mentor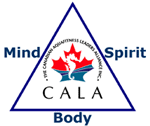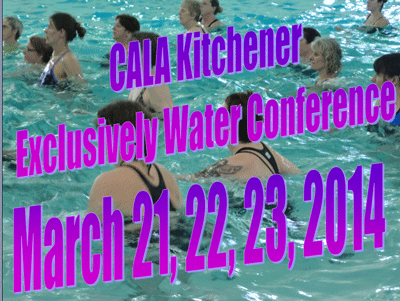 Download Brochure/Registration/Meal Menus or
Hotel Information

Contact CALA if you would like to:
have a vendor both

volunteer or

be a guest speaker
Booths at conference
---
CALA Autumn Conference,
Canmore Alberta
September 27, 28 2014
Brochure to be available in spring
If you would like to present, please complete
the presenter application and submit it to CALA. If you would like to have a vendor booth, be a guest speaker or volunteer
---
Upcoming Training
Stellenbosch, South Africa Feb 28, Mar 1-2 2014
CALA Group Aquafitness & Specialty Certification Course
CALA Vertical Water
Where: Hosted by Stellenbosch University Sports Performance Institute (SUSPI)
Course Details: Annatjie Goedhals at 083-326-5815 or annatji21@gmail.com
Registration Details: Carien Janse van Rensburg at 021-808-4723 or carienjvr@sun.ac.za
Registration form: adobe (pdf)
Mississauga ON When: April 25, 26, 27 2014


CALA HydroRider Specialty Training and
Certification Course
Where: University of Toronto, Mississauga Campus http://www.utm.utoronto.ca/8709.0.html
Registration: 1-888-751-9823 Reg. form(pdf)
CALA Israel - Oded Netzer of Total Training
is hosting Combined VWT and GAF Course
Registration Course Syllabus