Seasons Greetings to ALL of our CALA Friends around the world
CALA • 125 Lilian Drive, Toronto, ON • M1R 3W6, Canada Ph: 416-751-9823 • cala_aqua@mac.com



CALA instructors only (private group)
CALA Aquafit Instructor Group

Announcement:

Please send all communication to cala_aqua@mac.com

cala@interlog.com

is NO longer active

Catch the CALA Wave




The Canadian Aquafitness Leaders Alliance Inc. (CALA), is dedicated to providing a high quality training, certification and communication network for aquafitness leaders and aquatic rehabilitation specialists. CALA promotes professionalism and excellence through thoughtful integration of the mind, body and spirit.

Charlene Kopansky, President and Founder
Certifying Internationally Recognized Aquafit Leaders for 26 yrs
Hons. B.Sc., Human Kinetics, B.Ed. Sc., P.H.E.
canfitpro Lifetime Achievement Award award pictures

---

Job Posting more

---

Highlighted Upcoming CALA Events

CALA Events/Certification Schedule PDF Nov 13, 2019
Host a CALA Event at your facility

Workshops & Conferences accredited by CALA, canfitpro, AFLCA, BCRPA, SPRA, OFC, CFES TRO

CALA Courses are also canfitpro accredited * 4FIS, 4PTS, 4OAS

You require 8CECS per year to renew your certification. If you are unable to attend a CALA Event (preferred) you may petition to have other related training granted CALA CECS. doc pdf

If the course or workshop you are interested in is not listed, please contact CALA directly at
416-751-9823 or email CALA_AQUA@mac.com

---

Meet Charlene Kopansky and Learn About CALA


Become a Certified CALA Aquafit Instructor.

---

Host a CALA Event

---

Feedback about our exceptional trainers


Merchandise


---

Water Works!

A young man suffering from a serious back injury came to the pool with his child. He kept a close eye on the exercises the instructor was doing with client. He asked can you make me walk, the doctors said I would never walk. I've been in the wheelchair for 4 years now. No promises the instructor said but if you want to try we can work together. After 1.5years a miracle happened. Up to then the instructor moved the man's legs. One day he said, I want to do it myself. With total commitment he started to move his legs himself. With time the instructor would tell him the exercise and he would do them. When he went to the doctor, the doctor noticed major changes. He asked what he was doing. The man said exercising in the water. When he told the doctor the exercises he was able to do, the doctor said it is not possible, your movements are spontaneous muscle contractions. There is no way you will ever be able to control your movements. The man said to the doctor, the instructor tells me the exercise and I do them. The instructors mixes up the movements so I have no idea what they are going to make me do. How can this be spontaneous muscle movement. The long story short is, he now walks with braces and has returned to work.

Another reason to cross train – Land Meets Water… Water works!

Water is magical - buoyancy unloads the body, and impact decreases with increasing depth of immersion.

Athletes and other fitness enthusiasts who participate in land based activities that include a significant amount of 'landing' run the risk of developing a condition called foot-strike haemolysis. This may result in rupturing of red blood cells affecting the ability of the body to maintain the iron needed to carry oxygen.

Runners have been found to develop hemolysis, whereas long distance cyclists have not. Schumacher et al, 2002 suggested that repeated foot strikes associated with running destroy red blood cells.
---
CALA • 125 Lilian Drive, Toronto, Ontario • M1R 3W6, Canada Phone: 416-751-9823 • CALA_AQUA@mac.com
Follow CALA


CALA Inc

CALA Aquafit Instructor Group for persons who have taken a CALA Certification Course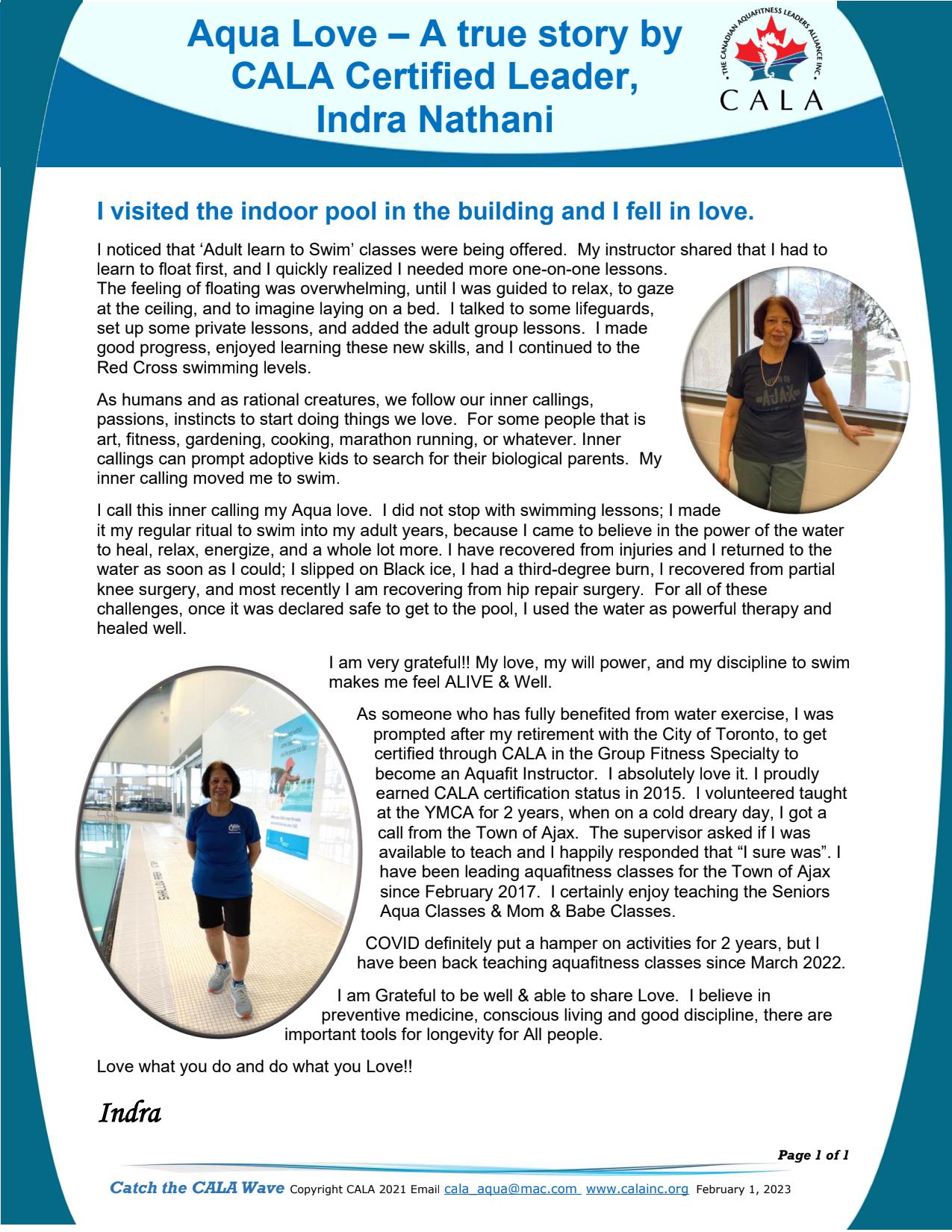 Charlene Kopansky

calaincorg