Spring Conference
March 28, 29, 2015

Charlene Kopansky

President and Founder

canfitpro Lifetime
Achievement
Award 2013
Join the Internationally Recognized
Team of Aquafit Professionals
The Canadian Aquafitness Leaders Alliance Inc. (CALA), is dedicated to providing a high quality training, certification and communication network for aquafitness leaders and aquatic rehabilitation specialists. CALA promotes professionalism and excellence through thoughtful integration of the mind, body and spirit.
CALA Certified
Clearly Qualified
Prerequisite
Vertical Waters Training (required) pdf
CALA Specialty Training and Certification Courses
Group Aqua Fitness (GAF) pdf
Aqua Yoga pdf
Aqua Kick Box pdf
Hydro Rider pdf
Water Running/Jogging pdf
Introduction to Aquafitness pdf
Aqua Post-Rehabilitation Program pdf
Upcoming CALA Training and Certification Schedule
---
www.canfitpro.com/consumerto
Presenter Charlene Kopansky
5025 - Aqua Pre and Post-Natal: The Advantages of Vertical Water Training during the Childbearing Years
Day Sunday 7:30 AM - 8:45 AM
Presenter Charlene Kopansky
Type Lecture
Description
Many women choose to continue an active lifestyle during their pregnancy and the months following delivery. Physical activity does not increase the risk of miscarriage in a healthy pregnancy and will result in enhanced physical fitness. These improvements depend on the design of the program and the effort of the client. The magical properties of water including buoyancy, thermal conductivity, turbulence, hydrostatic pressure and resistance, work together to provide a safe, effective environment for pre and post-natal woman. This research-based lecture will address issues facing pre and post-natal women, aquatic exercise design strategies and successful cross-training where land meets water.
CECs FIS, PTS, PFS
Specialty Tracks Aquafitness, Advanced Personal Training
GoodLife Recommended Group Exercise Instructors, Sales
**************************************************************
Presenter Charlene Kopansky
5223 - Make the Water "Boil": How to Effectively Progress and Intensify Aquatic Exercises Safely
Day Sunday 9:30 AM - 11:00 AM
Presenter Charlene Kopansky
Type Lecture
Description
Step outside your comfort zone by exploring the space around your body. Learn how to manipulate resistance and buoyancy in the zero gravity vertical water training environment while moving the body in unique directional planes. Create opportunities to enhance the functional capacity of your clients and engage their intellectual side in a truly uplifting way. Understand how water is capable of enhancing recovery from hard land-based sessions. Learn how to avoid injury and how to use water to rehabilitate while maintaining and improving your client's fitness level. This lecture links land and water training to create optimal outcomes for participants and clients.
CALA • 125 Lilian Drive, Toronto, Ontario • M1R 3W6, Canada
Phone: 416-751-9823 • Fax: 416-755-1832 • Toll Free: 1-888-751-9823 (in Canada)

Follow Us

CALA Inc

CALA Aqua Yoga Group for persons who have taken the CALA Aqua Yoga Certification Course

Karl's Aqua Yoga Page


CALA Aquafit Instructor Group for persons who have taken the CALA Certification Training Course


CALA_Aquafitness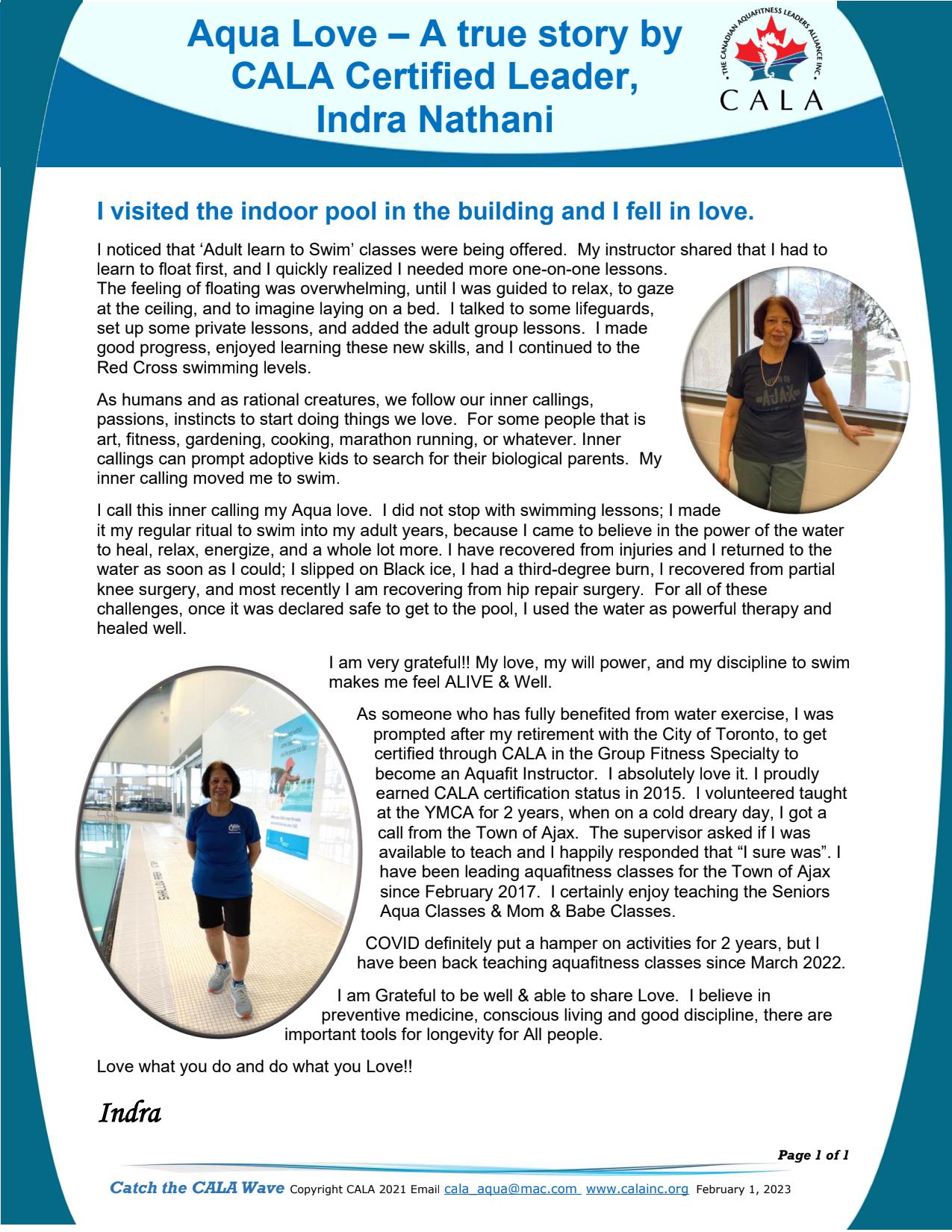 Charlene Kopansky