Available Certification Paths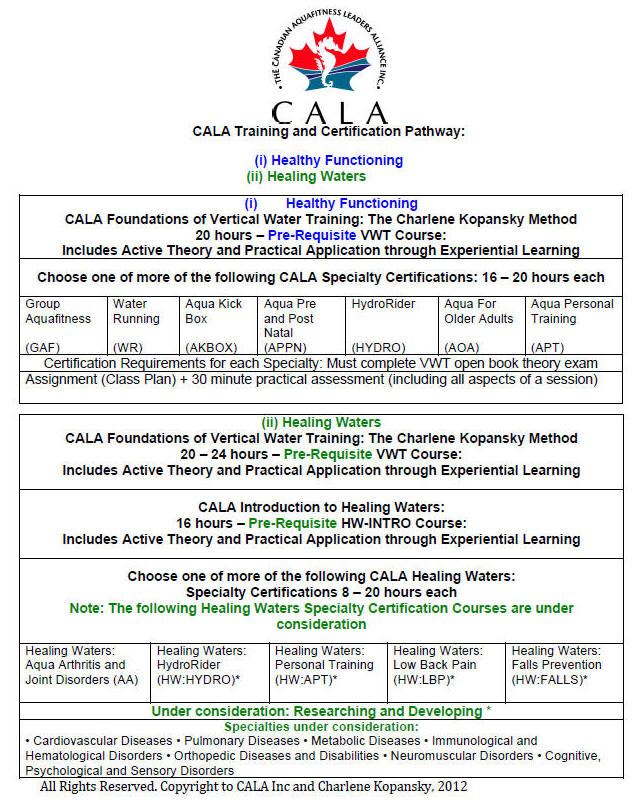 The Foundations of Vertical Water Training (VWT) Course is 20 hours in length and sets the stage for you to choose one or more specialty certifications. Refer to the above is a flow chart.
Once the VWT course and an open book theory exam are completed, you are eligible to proceed to the specialty certification of your choice. Most people choose to get their certification in Group Aqua Fitness. This is another 20 hour course and in order to achieve certification as a GAF instructor, you will need to do a 30 minute practical assessment (a mini class) and complete an assignment.
The costs are as follows:
1. CALA membership fees: $49 annual fee + tax
2. VWT 20 hour Course, Manual and Exam Fees: $249 + tax
3. GAF 20 hour Course, Manual, Assignment and Practical Assessment Fees: $254 + tax
Once you are CALA certified you will need to do the following:
1) Maintain your membership status on an annual basis ($49)
2) Attend 8 hours of workshops or other specialty courses. Note: If you attend more than 8 hours of workshops, you can bank your extra credits (CECs) and use them for future recertification. You never lose the credits that you earn. If you are unable to attend workshops or a conference, you can petition for CECs by completing a "tele-class" or by attending other events that are related to fitness
3) Pay a recertification fee of $15 annually
Note: If the course you are looking for is not listed, contact CALA to discuss your course requirements.