CALA 2011 "Exclusively Water" Kitchener ON
View the CALA Upcoming Schedule of Courses/Workshops
An exciting event to be shared with fellow Aquafit enthusiasts.
Learn and experience new moves and equipment. Meet new and experienced instructors from around the world.
Brochure / Registration Form Presenter details Vendors HydroRider
CECs (get canfitpro cecs

) CALA AFLCA BCRPA CanFitPro NSFLA SPRA SportPEI CPTN
---

Enjoy the conference pictures
(Below are some pictures from the CALA Kitchener Conference. More pictures will be load in the near future)
Feedback from the conference
Charlene, this conference was fantastic. The team that taught us are incredible people. I learned a lot from the workshops and really found that the level of instruction was out of this world. Thanks to all for putting it together. Kassie
CALA "Exclusively Water" 2011 Kitchener ON March 25-27
Everyone "Caught the CALA Wave" and they will continue to "Ride the CALA Wave into New Waters" as they return to their classes as revitalized instructors. Experiencing new moves and combinations, brought even more ideas to our instructor's minds. No Instructor stands alone. Every Aquafit Instructor grows from the knowledge of other Aquafit Instructors.
Picture and Video
CALA is excited to share the pictures that were taken during the conference. We thank all those who allowed us to photograph them. When the pictures are posted, we hope they bring back memories of the good time you had. If you would like a picture of yourself removed from the web, please contact webmaster@calainc.org directly. We will make every effort to respect your request.
Everyone thanks Charlene for the conference and opportunity to network with such valuable resources. We await the 2012 dates. Remember to keep you March open until the dates are announced.
Help CALA plan the 2012 "Exclusively Water" Kitchener Conference March 23-25, 2012
| | |
| --- | --- |
| | If you are interested in becoming a presenter in 2012, please complete the Presenter Applications and forward it to CALA. |
| | Take time to let CALA know what sessions you would like presented in future conferences. |
Volunteers
Without the help and support or a CALA volunteer team, the conference would not have been the success it was. Thank you to everyone who gave of their time and services.

Enjoy the conference pictures
(Below are some pictures from the CALA Kitchener Conference. More pictures will be load in the near future)
Thank you Charlene for another outstanding Conference. You and your staff, presenters, members, volunteers, vendor and our host make the conference what it is. Every year the conference gets better. Great variety of classes to choose from this year. Your presenters were second to none. Their knowledge and willingness to share their skills and knowledge makes the learning a pleasant experience. We will all take many new ideas back to our classes. Without these spectacular conferences, we may not have the opportunity to continue our growth. Meeting up with new and past presenters, instructors and trainers with an Aquafit common interest is an experience not to be missed. Sharing stories and getting ideas how others have resolved what you are experience is invaluable. It is great to learn you are not alone and there is help. The CALA Group is always there for you and it is truly appreciated by all. Thank you CALA.

Inspirational Speaker

Pool Memories

Reflecting

Everyone in the Pool

Conference Sessions
Aquam Hydro Rider
Noodles
Shelagh Noonan and Charlene Kopansky
Aqua Pilates
Diaper Fit
Aqua Running
Aqua Firbro
Aqua Yoga

CALA Merchandise


Charlene Kopansky is excited about this dynamic group of presenters at the CALA 2011 "Exclusively Water" Kitchener Ontario.
Take time to review the sessions available so that you are ready to register when your brochure arrives. Space is limited in some sessions, so early registration is important. You may choose to download the Brochure and Registration form from the web rather than waiting for your copy in the mail
Looking forward to seeing everyone at the Conference. CATCH THE WAVE

Brochure / Registration Presenter details Vendors HydroRider CECs

Conference Session Details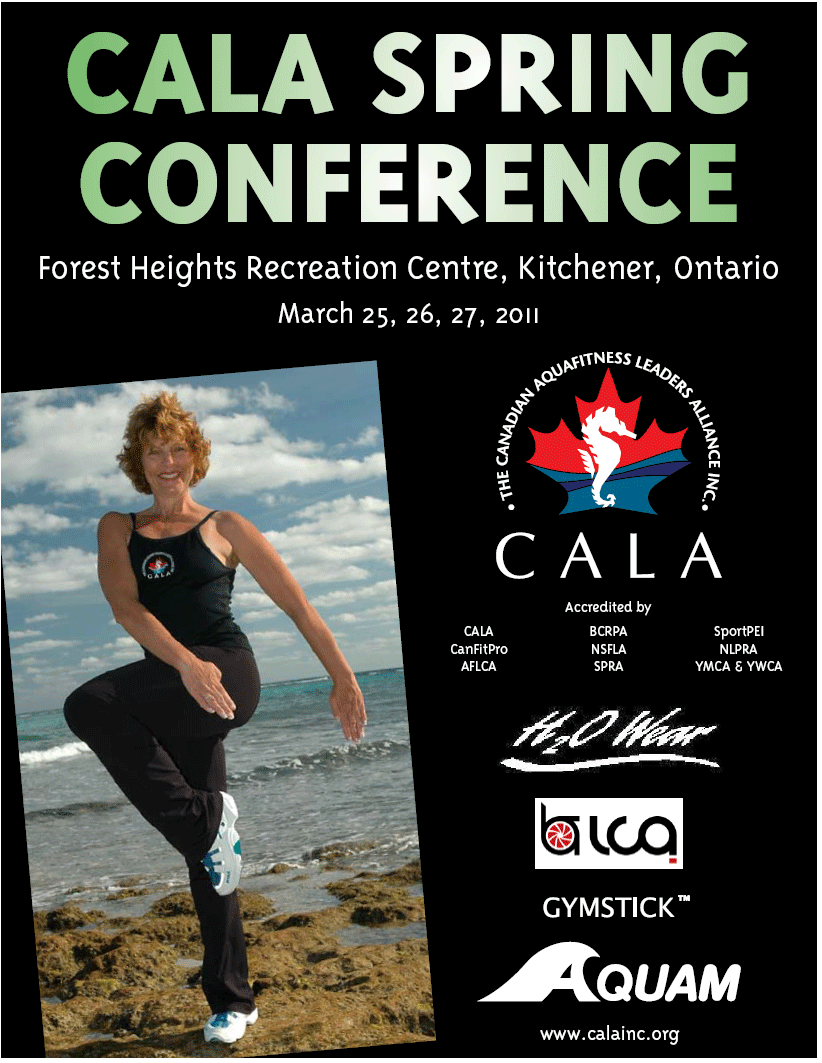 Brochure / Registration Presenter details Vendors HydroRider CECs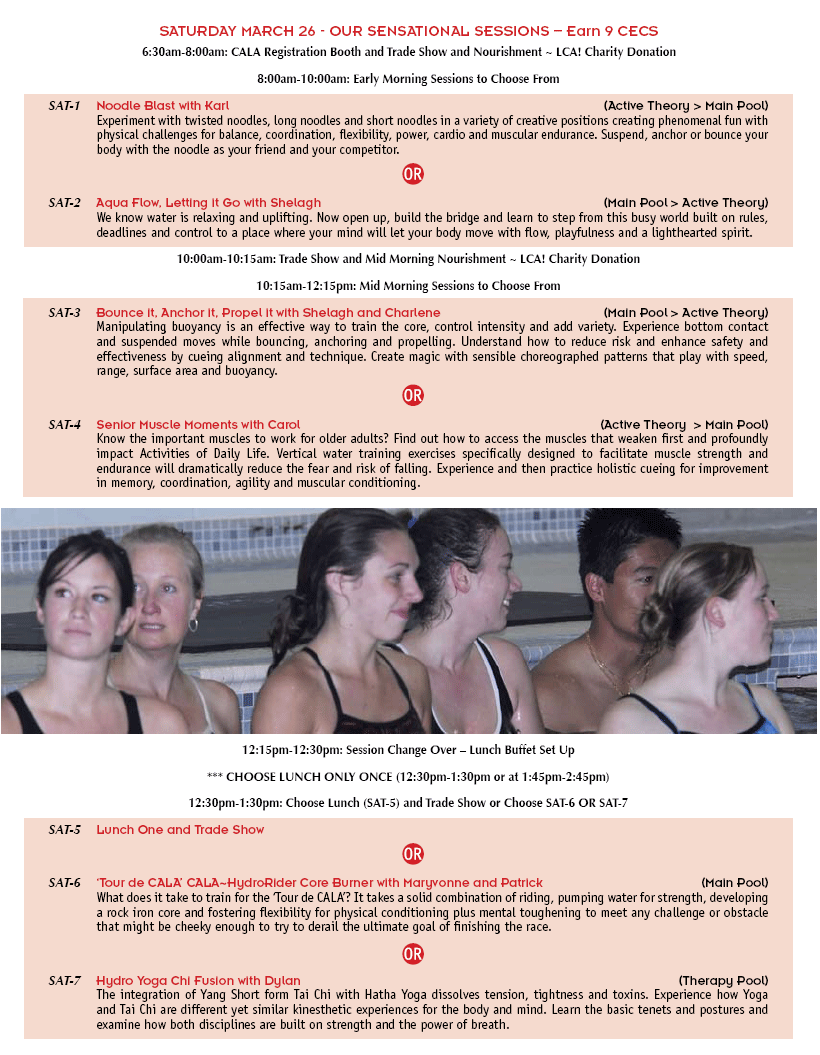 Brochure / Registration Presenter details Vendors HydroRider CECs


Brochure / Registration Presenter details Vendors HydroRider CECs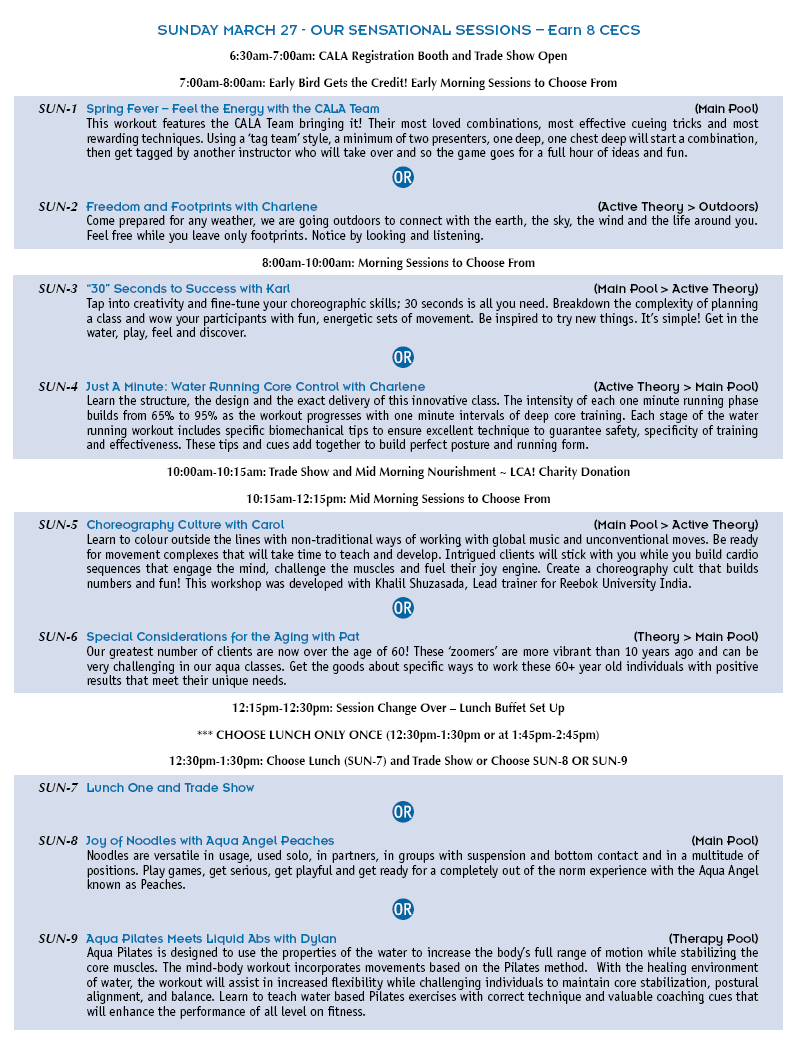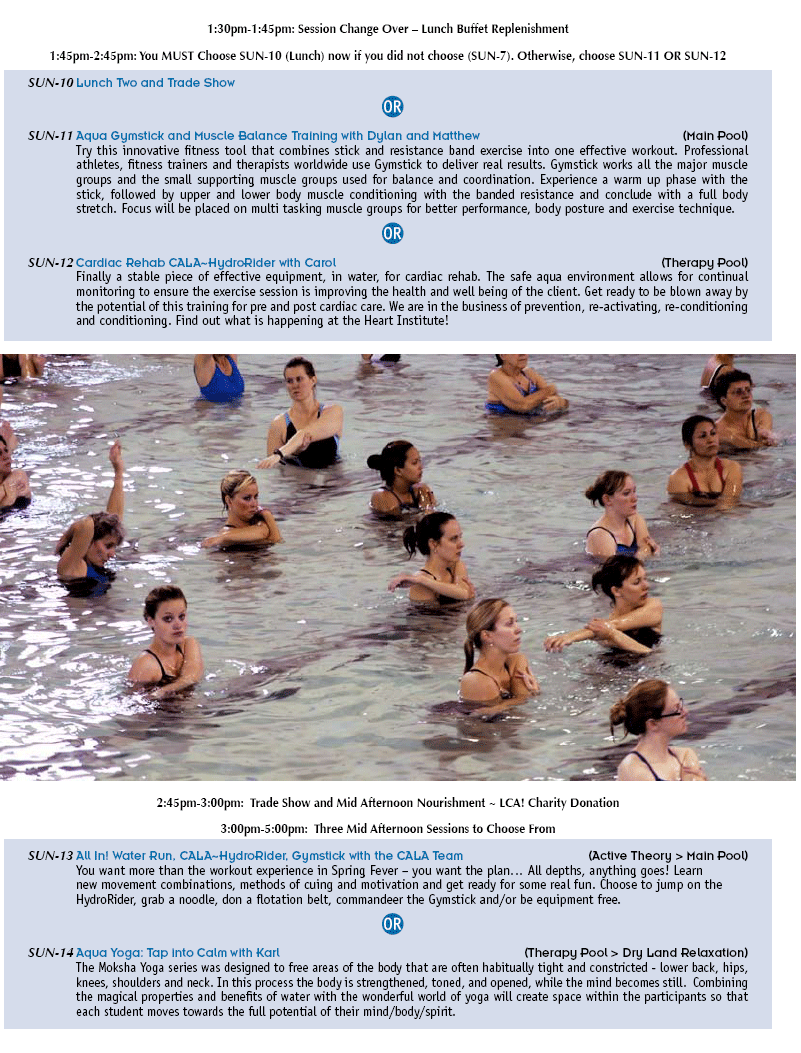 Brochure / Registration Presenter details Vendors HydroRider
LCA! CHARITY DONATION OPPORTUNITY
The Need - There are 4 and a half million Canadians with a disability of some kind. Currently, people with disabilities are an invisible in the Canadian media. Lights, Camera, Access!(LCA!) is adjusting this picture.
Founded by Leesa Levinson (Kopansky), an actor with Multiple Sclerosis, Lights, Camera, Access! is a nonprofit organization with charitable status.
The Mission - LCA! is a provider of a network of services to advance the presence and participation of persons with disabilities in the entertainment and media industries.
The Vision - To encourage employment in the entertainment industry of persons with disabilities while engaging decision makers in the sector to use their media to accelerate public awareness and acceptance of persons with disabilities generally and in the development, production and distribution of their product specifically. http://lightscameraaccess.ca/ Twitter http://twitter.com/#!/lca_canada


Brochure / Registration Presenter details Vendors HydroRider CECs
CECS
Brochure / Registration
Presenter details
Vendors
HydroRider
CECs
CECs

canfitpro will accredit CECs for the CALA conference. Click on the appropriate link for the CEC breakdown for that day.

canfitpro is proud to be associated with this great educational event!

BCRPA has recognized the CALA Spring Exclusively Water Conference for the following renewal credits (one hour, one BCRPA Renewal Credit)

Friday March 25, 2011: MAXIMUM CECs FOR FRIDAY = 7
FRI-1 this block approved for 2 CECs
FRI-2 AND FRI-3 this block approved for 3 CECs
FRI-4 AND FRI-5 this block approved for 2 CECs
FRI-6 no CECs for this event

Saturday March 26, 2011: MAXIMUM CECs FOR SATURDAY = 7
SAT-1 AND SAT-2 this block approved for 2 CECs
SAT-3 AND SAT-4 this block approved for 2 CECs
SAT-6 AND SAT-7 this block approved for 1 CEC
SAT-9 AND SAT-10 this block approved for 1 CEC
SAT-11 AND SAT-12 this block approved for 2 CECs
SAT-13 no CECs for this event

Sunday March 27, 2011: MAXIMUM CECs FOR SUNDAY = 7
SUN-1 AND SUN-2 no CECs for the morning workout or nature walk
SUN-3 AND SUN-4 this block approved for 2 CECs
SUN-5 AND SUN-6 this block approved for 2 CECs
SUN-8 AND SUN-9 this block approved for 1 CEC
SUN-11 AND SUN-12 this block approved for 1 CEC
SUN-13 AND SUN-14 this block approved for 2 CECs


MAXIMUM CECs FOR THE 3-DAY CALA CONFERENCE = 21

CECs Granted By SPRA

18 CECs (6 CECs per day) for anyone attending the this conference

CALA

1 CEC per hour
Fri 8 CECS
Sat 7 or 9 CECS (depends on sessions selected
Sun 8 CECS
You can bank your CECS for future use against recertification (8 CECS per year required for recertification.)


AFLCA

1.0 AFLCA credit per 1.0 of session time (excluding workouts)
Leaders must accumulate 12 credits to recertify.

CPTN

Offering CEC (without a fee) for the CALA conference as a reciprocal exchange
CPTN conference brochure is posted on their website: www.cptn.com
CALA CEC are offered for this year's CPTN conference

Registration
Brochure / Registration
Presenter details
Vendors
HydroRider
CECs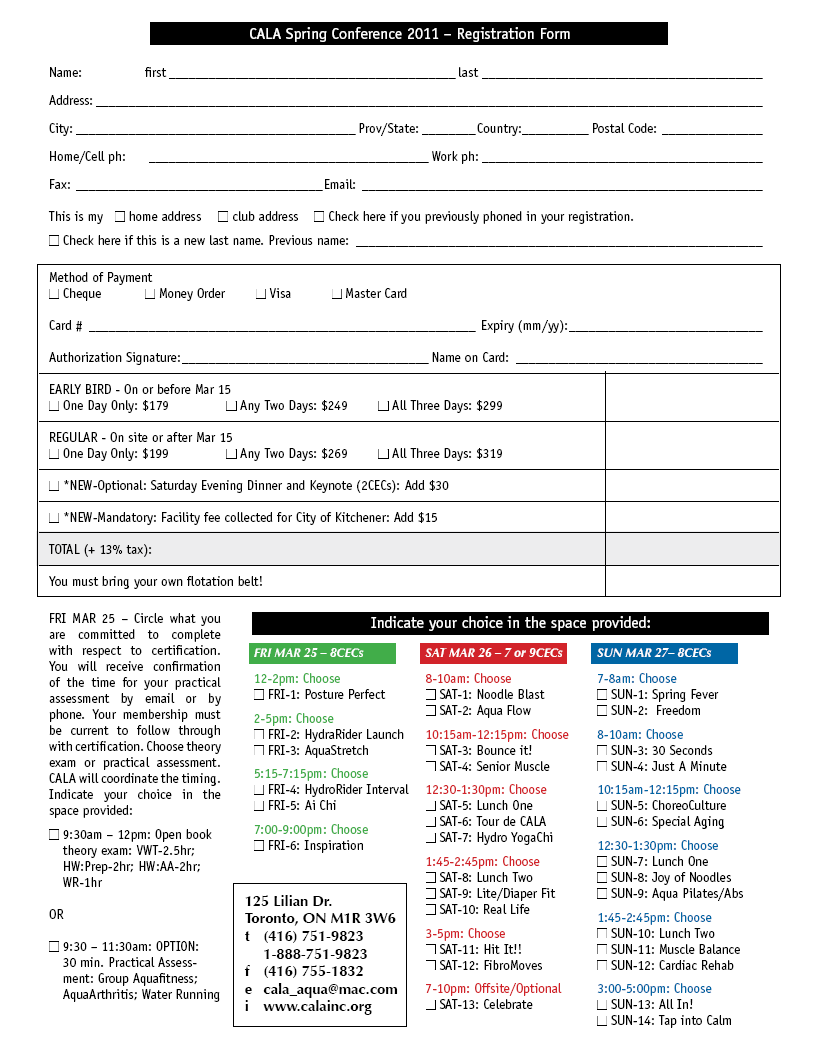 Our Professional Line Up of Presenters

Brochure / Registration Presenter details Vendors HydroRider

Maryvonne Berthault: CALA and YMCA certified; CALA Water Running Specialist; Trainer and Assessor, YMCA and CFPro PT and FIS Specialist. Maryvonne has over fifteen years experience catering to personal training clients on land and in water and teaching aquafitness. She is an avid cyclist, runner, swimmer, skier and backpacker dedicated to healthy posture. Maryvonne loves sharing her knowledge and passion for health and wellness. National Bilingual Presenter with CALA and CFP.
Dylan Harries: B.Rec., B.Sc. HK, C.A.T. with over 18 years of fitness experience, Dylan is the Executive Director for Body Rock Fitness and the HFR Coordinator for Nepean Sportsplex. In his spare time, he is a renowned athletic trainer and performance coach for world level figure skaters. He is CFPro (PTS/FIS), CALA (Trainer), YMCA (T For T), Exter-Ball, Bosu Balance Trainer, Gliding, Gym-Stick, Bender Ball, SPI (2), Mad Dog Spinning (star 2) and NCCP (2) certified.
Kathy Zador: CALA Certified in Healing Waters. A schoolteacher for over 30 years, Kathy has enjoyed a lifetime involvement with water including swimming, boating and beach lifeguarding. Having developed a successful community based 'Fibromoves' program, Kathy is currently working with CALA to design a comprehensive resource package for participants and leaders interested in aqua classes for FMS. Nominated in the Health and Wellness category for the KW Oktoberfest Rogers Women of the Year, Kathy was selected as a Patient Ambassador for Fibromyalgia and has shared her story through the media. Kathy lobbies for the construction of more facilities that are appropriate for aqua therapy programs such as FibroMoves.
Charlene Kopansky, B.Sc. Human Kinetics, B. Ed., CALA Inc. was founded by this dynamic, dedicated individual who embodies a vision of excellence. Charlene taught Biology, Science and PHE. and dance fitness classes at university. Her skills in dance choreography, water running, personal training, fitness and aqua fitness leadership have made her a popular presenter in Brazil, Trinidad and Tobago, Mexico, Australia, Germany, Cuba, Dominican Republic, UK, Israel, South Africa and New Zealand. Awards include 'Top Presenter' and Presenter of the Year-Germany, Volunteer Recognition and Leadership Awards-OFC, Who's Who of Canadian Women in Fitness-Chatelaine Mag., Fitness Leader of the Year-Fitness Institute, and Specialty Presenter of the Year-CFP.
Matthew Kopansky: Currently studying Geography at Wilfred Laurier University, Matt has completed CALA Training and will begin teaching classes this summer. Arriving at vertical water training quite naturally, Matt used to watch and participate in his mother, Sharon's practice sessions in the living room. Matt is a scholarship winning runner who stays extremely fit with running, skiing, playing hockey, pool work, weight training, you name it! Matt will be the 'demo-guy' for the Gymstick sessions.
Connie Jasinskas, B.Sc., B.Ed., M.Sc. PFLC, CFP, CALA Master Trainer, Atri Faculty Member, Certified Laughter Yoga. Providing leadership training in health and fitness and educating international audiences, Connie works with healthy people and others with vehicle or workplace injuries, arthritis, FMS, osteoporosis, and back pain. Connie makes complex information practical, easy to understand. Her sessions are relaxed and enjoyable.
Patrick Lévesque: CALA Certified, an Apprentice Trainer and an elite member of the CALA~HydroRider Specialty Team, Patrick brings 25 years of experience in the aquatic field, Granby, Quebec to our conference. Patrick is fit as a fiddle and a fabulous role model. Welcome aboard Patrick.
Peaches ~ Patricia Van Oene is full of enthusiasm with a life rich with extraordinary experiences. From Michigan, an avid fan of teaching aqua fitness, with a spirit that brings a smile to your face, you will certainly be entertained in her "Joy of Noodles" Session.
Karl Notargiovanni: B.F.A. Choreography; CALA Trainer; Massage Therapist, Moksha Yoga Instructor, opening a Yoga Studio in Vancouver, May 1, 2011, Karl is skilled at blending several disciplines to connect movement, memory and imagery encouraging the practice of engaging the body through consciousness. Teaching for over 13 years, he has developed a unique edge to his leadership. Karl is passionate about exploring these connections and sharing them through energetic classes and workshops.
Sarah Jane Poulsen: Sarah manages her husband's law practice and may one day complete her CALA certification. Once 340 pounds, Sarah's struggle through food addiction and weight loss led her to the water which helped to heal her mind, body, and spirit. Sarah is magical with words and is certain to make you laugh out loud and also ponder life as she takes you on her journey on Friday and Saturday evenings at the CALA Celebrates, Shares and Inspires events, off site.
Pat Richards: B. P.H.E., CALA trainer. Pat has a passion for water exercise working with special needs clients, competitive athletes, the disabled & those seeking recreational level fitness. She coaches a Dragon Boat Team of Breast Cancer Survivors. Involved in the fitness industry for over 30 years & recently retired from the Fitness Centre Coordinator position at U. of Guelph, Pat believes that all people, young and older, are happiest when they are active.
Shelagh Noonan: B.A., B.Ed., CALA, BCRPA and CPAFLA certified. Returning to CALA after sailing around Central America and being involved in the Special Education program for SelfDesign (an online school in BC), Shelagh brings a breath of fresh air with her unique sense of humor and creative way of moving. Her intensive and varied training in Nia, Gymnastics, Yoga and Martial Arts (TaeKwonDo & Kickboxing) enables Shelagh to think way outside the box.
Carol Weerdenburg: M.Sc. CALA Master Trainer, Gymstick, BenderBall Master Trainer, Certified YMCA-YWCA, CFP, as lead research consultant and presenter, Carol is developing and refreshing a host of projects exclusively for CALA Inc. Current projects include CALA Pre and Post Cardiac Conditioning, Older Adult-Falls Prevention, Aqua PT and CALA~HydroRider Specialty Training and Certification. Get charged up by Carol's authentic, meaningful motivational presentation style that mixes science with the magic of Reiki

Brochure / Registration Presenter details Vendors HydroRider CECs

SPONSOR/VENDOR

Swimwear can be purchased through H2OWear. www.h2owear.com H2OWear has a booth at the Kitchener Ontario CALA Conference each year. At the conference they have a full display of styles and sizes for you to try.

Flattering suits that hold their shape and are guaranteed to resist chlorine!

Top-quality suits that last, with built-in 50+UPF sun protection. Suits with modesty panels for extra coverage or side accent panels for a fit and trim look. Styles with slimming details and tummy trimming solutions. Sizes range from 4 to 32, some with regular and long torso options and three bra types for stay-put comfort. H2O's signature ChloroGuard™ fabric is made of 100% polyester and is spandex free. It withstands chlorine better and holds its shape beautifully. Sample suites below, more styles at www.h2owear.com

VENDORS

http://www.gymstick.ca/
Prices subject to change without notice
Download copy of Gymstick information

Door Prize Donations and other conference contributors
Green Shield
Brochure / Registration Presenter details Vendors HydroRider