2011 Fall CALA-CARA Aquatic Post Rehabilitation & Reactivation Conference - Mississauga ON, Canada - September 9-10, 2011
Without the great support team the conference would not have been the success it was. So many people gave of their skills, knowledge and time to bring this exceptional group of professionals together for this rehabilitation learning and sharing experience.

CALA looks to seeing everyone at the 2012 (dates to be announced) Conference. Keep an eye on the Upcoming page for dates.

If you have suggestions for sessions or would like to present, please contact CALA. Bring your expertise to CALA and "CATCH THE CALA WAVE".

The new CALA jacket is now available through CALA. Contact CALA for sizes, colours and price.


Linda Rampen (left), Aquatic Director of City of Mississauga and Charlene Kopnasky (right) Owner/President of CALA
Share the conference experience through the conference participants
Conference Feedback
Thank you so very much for the most enjoyable, relaxing weekend. Just what I needed away from a busy clinic. I must admit though I was very tired at the end, but good therapy. Looking forward to the CALA Healing Waters Course. Mary Anne

Thank you for taking so many pictures. Look forward to seeing them. Anonymous

Loved interacting with so many professionals from various rehabilitation backgrounds. The water is a great healing environment that we need to utilize. The water is great for everyone regardless of age and abilities. What is the date of next year's conference? TM

Facility - Clarkson Community Centre
Return to Function - Post-Rehabilitation

Brian Cook: B.Sc. Human Performance, has extensive experience developing and managing private fitness clubs and employee fitness programs, fitness consulting, and training staff in fitness, sport training and rehabilitation. He has competed in a variety of sports and has trained athletes at all levels. At times a runner, cyclist and swimmer, he has always pursued a regular resistance training routine. Brian has worked as the senior Kinesiologist at physiotherapy and rehabilitation clinics, instructing the Aquatic Exercise Therapy class for MVA, WSIB and private physiotherapy patients. Brian has co-authored several books and training manuals: Strength Basics - Your guide to Resistance Training for Health and Optimal Performance; CF Express Programme Guide to Strength and Muscular Endurance and GET STRONG - A Sensible Guide to Strength & Muscular Endurance. Brian is a CALA Trainer (since 1995!) in the CALA Healing Waters Program.

Hydro Rider and Progression Conditioning: Conditioning the De-conditioned

Carol Weerdenburg: M.Sc. CALA Master Trainer, Gymstick, BenderBall Master Trainer, Certified YMCA-YWCA, CFP, as lead research consultant and presenter, Carol is developing and refreshing a host of projects exclusively for CALA Inc. Current projects include CALA Pre and Post Cardiac Conditioning, Older Adult-Falls Prevention, Aqua PT and CALA~HydroRider Specialty Training and Certification. Get charged up by Carol's authentic, meaningful motivational presentation style that mixes science with the magic of Reiki

Dylan Harries: B.Rec., B.Sc. HK, C.A.T. with over 18 years of fitness experience, Dylan is the Executive Director for Body Rock Fitness and the HFR Coordinator for Nepean Sportsplex. In his spare time, he is a renowned athletic trainer and performance coach for world level figure skaters. He is CFPro (PTS/FIS), CALA (Trainer), YMCA (T For T), Exter-Ball, Bosu Balance Trainer, Gliding, Gym-Stick, Bender Ball, SPI (2), Mad Dog Spinning (star 2) and NCCP (2) certified.

Introduction to the "Fibro Moves" Concept

Kathy Zador: CALA Certified in Healing Waters. A schoolteacher for over 30 years, Kathy has enjoyed a lifetime involvement with water including swimming, boating and beach lifeguarding. Having developed a successful community based 'Fibromoves' program, Kathy is currently working with CALA to design a comprehensive resource package for participants and leaders interested in aqua classes for FMS. Nominated in the Health and Wellness category for the KW Oktoberfest Rogers Women of the Year, Kathy was selected as a Patient Ambassador for Fibromyalgia and has shared her story through the media. Kathy lobbies for the construction of more facilities that are appropriate for aqua therapy programs such as FibroMoves.

Fall Prevention Strategies in Water and on Land

Charlene Kopansky: B.Sc. Human Kinetics, B. Ed., CALA Inc. was founded by this dynamic, dedicated individual who embodies a vision of excellence. Charlene taught Biology, Science and PHE. and dance fitness classes at university. Her skills in dance choreography, water running, personal training, fitness and aqua fitness leadership have made her a popular presenter in Brazil, Trinidad and Tobago, Mexico, Australia, Germany, Cuba, Dominican Republic, UK, Israel, South Africa and New Zealand. Awards include 'Top Presenter' and Presenter of the Year-Germany, Volunteer Recognition and Leadership Awards-OFC, Who's Who of Canadian Women in Fitness-Chatelaine Mag., Fitness Leader of the Year-Fitness Institute, and Specialty Presenter of the Year-CFP.

Carol Weerdenburg: M.Sc. CALA Master Trainer, Gymstick, BenderBall Master Trainer, Certified YMCA-YWCA, CFP, as lead research consultant and presenter, Carol is developing and refreshing a host of projects exclusively for CALA Inc. Current projects include CALA Pre and Post Cardiac Conditioning, Older Adult-Falls Prevention, Aqua PT and CALA~HydroRider Specialty Training and Certification. Get charged up by Carol's authentic, meaningful motivational presentation style that mixes science with the magic of Reiki

What the Doctor Ordered - Aqua Therapy!

Dr. Serge Goulet, is a Family Physician and Clinical Professor of Medicine, UMF Charles Lemonyne of Sherbrooke University. Graduated from University of Montreal, and completed masters studies in Pedagogy and Echography at University of Sherbrooke. Dr. Goulet is in charge of the Muscolo-Squelletique Clinique and a committee member of Continuous Medical Education (CME). A co-founder of CoeurAction, a cardiac rehabilitation center and Médiforme, a physical conditioning center for people with health problems, Dr. Goulet will soon publish a book he co-authored.

Cardiac Core - A Magical Partnership: HydroRider, Hydro Treadmill and VWT: The Kopansky Method"

Carol Weerdenburg: M.Sc. CALA Master Trainer, Gymstick, BenderBall Master Trainer, Certified YMCA-YWCA, CFP, as lead research consultant and presenter, Carol is developing and refreshing a host of projects exclusively for CALA Inc. Current projects include CALA Pre and Post Cardiac Conditioning, Older Adult-Falls Prevention, Aqua PT and CALA~HydroRider Specialty Training and Certification. Get charged up by Carol's authentic, meaningful motivational presentation style that mixes science with the magic of Reiki

Dylan Harries: B.Rec., B.Sc. HK, C.A.T. with over 18 years of fitness experience, Dylan is the Executive Director for Body Rock Fitness and the HFR Coordinator for Nepean Sportsplex. In his spare time, he is a renowned athletic trainer and performance coach for world level figure skaters. He is CFPro (PTS/FIS), CALA (Trainer), YMCA (T For T), Exter-Ball, Bosu Balance Trainer, Gliding, Gym-Stick, Bender Ball, SPI (2), Mad Dog Spinning (star 2) and NCCP (2) certified.

Ai Chi - Aquatic Energy Flow

Ruth Sova, Masters Library Science, Founder and President of the Aquatic Therapy & Rehab Institute, is on the Wisconsin Governor's Council on Physical Fitness, received the Governor's Entrepreneurial Award, the IDEA Outstanding Business Award, the first Presidential Sports Award in aquatic exercise, and AEA's Contribution to the Industry Award. She has authored fifteen books and over 50 DVDs and CDs.

Aqua Stretch - Extremities and Core

Connie Jasinskas: B.Sc., B.Ed., M.Sc. PFLC, CFP, CALA Master Trainer, Atri Faculty Member, Certified Laughter Yoga. Providing leadership training in health and fitness and educating international audiences, Connie works with healthy people and others with vehicle or workplace injuries, arthritis, FMS, osteoporosis, and back pain. Connie makes complex information practical, easy to understand. Her sessions are relaxed and enjoyable.

The Hip: New Treatment Strategies, Rehab Approaches, Post-Rehab Strategies

Janet Davis: a Registered Physiotherapist, University of Toronto, and co-owner of Club Physio, has over 25 years experience working in the sports medicine field. A Level II Sports Physiotherapist, a CALA Certified Trainer, Certified Acupuncturist and CPTN Pilates Certifier, career highlights also include her former roles as the physiotherapist for the Under-19's Ontario Rugby Union, Medical Director for Koop Cup – Rhythmic Gymnastics Meet, chief physiotherapist for the Ontario Tennis Association, and medical coordinator for the Ontario Rugby Union. Janet enjoys biking and looking after her two young girls in her spare time!

Gait and Strength Gym Stick and Nordic Walking

Dylan Harries: B.Rec., B.Sc. HK, C.A.T. with over 18 years of fitness experience, Dylan is the Executive Director for Body Rock Fitness and the HFR Coordinator for Nepean Sportsplex. In his spare time, he is a renowned athletic trainer and performance coach for world level figure skaters. He is CFPro (PTS/FIS), CALA (Trainer), YMCA (T For T), Exter-Ball, Bosu Balance Trainer, Gliding, Gym-Stick, Bender Ball, SPI (2), Mad Dog Spinning (star 2) and NCCP (2) certified.

Posture Alignment, Low Back Stability Training

Karl Notargiovanni: B.F.A. Choreography; CALA Trainer; Massage Therapist, Moksha Yoga Instructor, opening a Yoga Studio in Vancouver, May 1, 2011, Karl is skilled at blending several disciplines to connect movement, memory and imagery encouraging the practice of engaging the body through consciousness. Teaching for over 13 years, he has developed a unique edge to his leadership. Karl is passionate about exploring these connections and sharing them through energetic classes and workshops.

Trade Show Vendors
Reflecting, sharing and experiencing the conference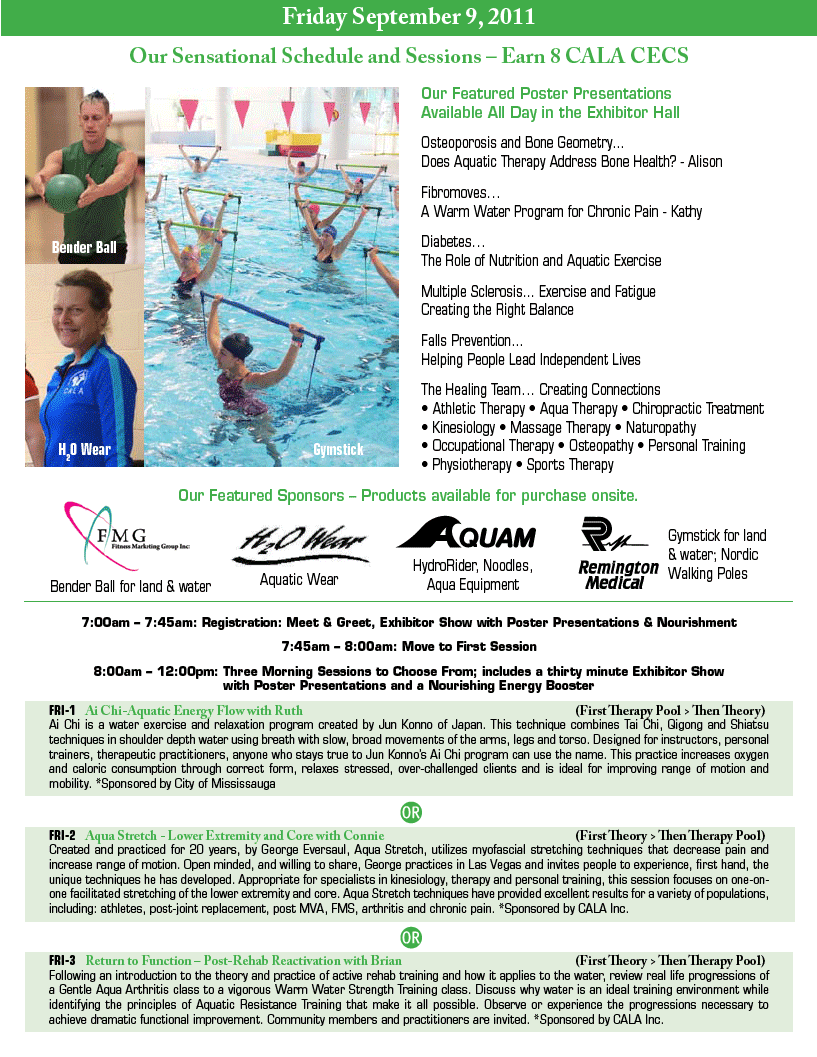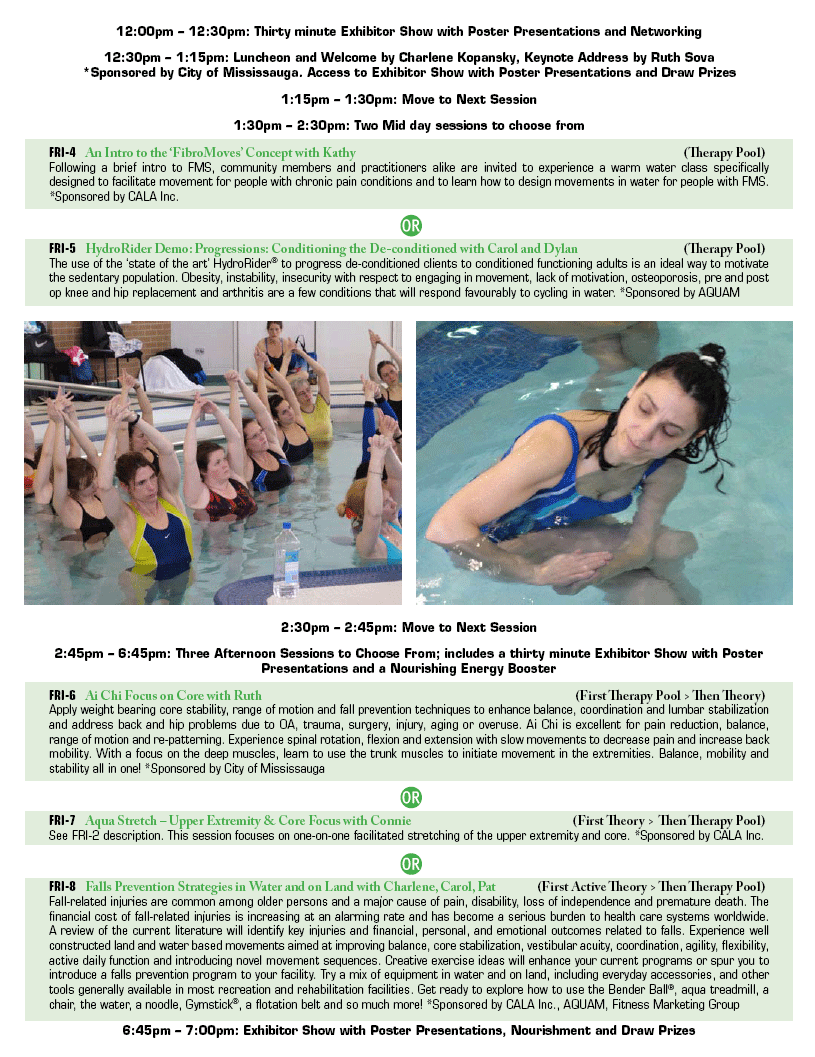 LCA! CHARITY DONATION OPPORTUNITY
The Need - There are 4 and a half million Canadians with a disability of some kind. Currently, people with disabilities are an invisible in the Canadian media. Lights, Camera, Access!(LCA!) is adjusting this picture.
Founded by Leesa Levinson (Kopansky), an actor with Multiple Sclerosis, Lights, Camera, Access! is a nonprofit organization with charitable status.
The Mission - LCA! is a provider of a network of services to advance the presence and participation of persons with disabilities in the entertainment and media industries.
The Vision - To encourage employment in the entertainment industry of persons with disabilities while engaging decision makers in the sector to use their media to accelerate public awareness and acceptance of persons with disabilities generally and in the development, production and distribution of their product specifically. http://lightscameraaccess.ca/ Twitter http://twitter.com/#!/lca_canada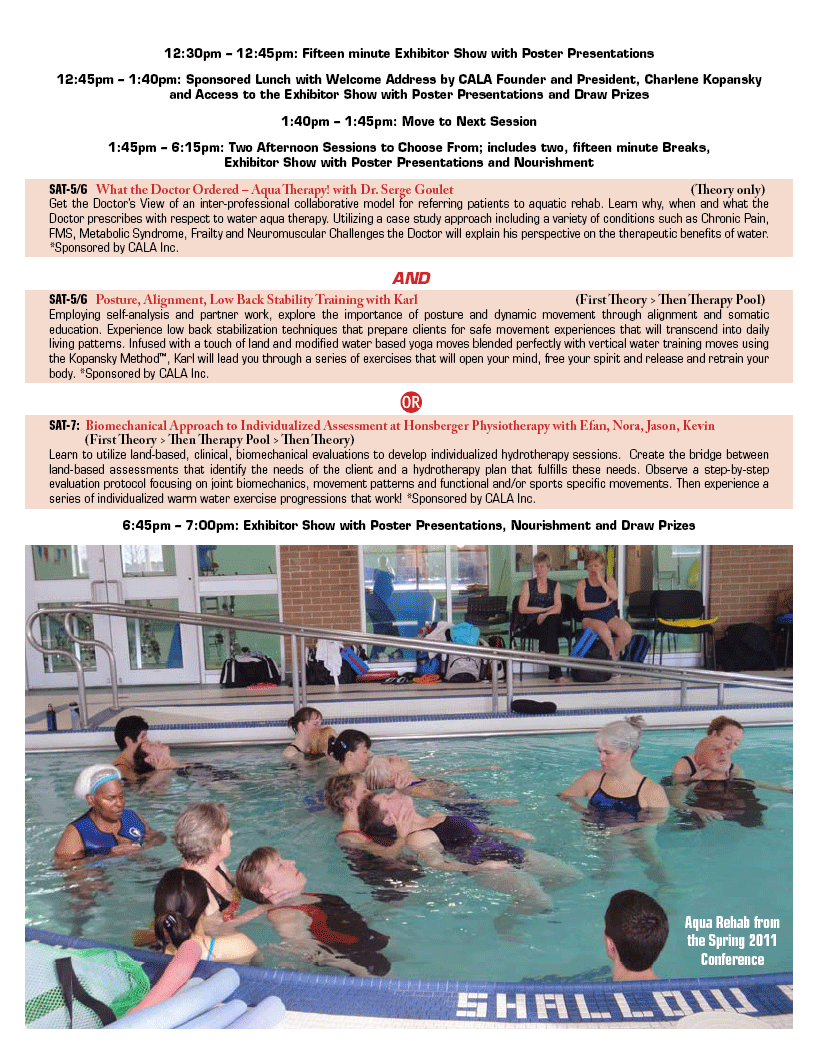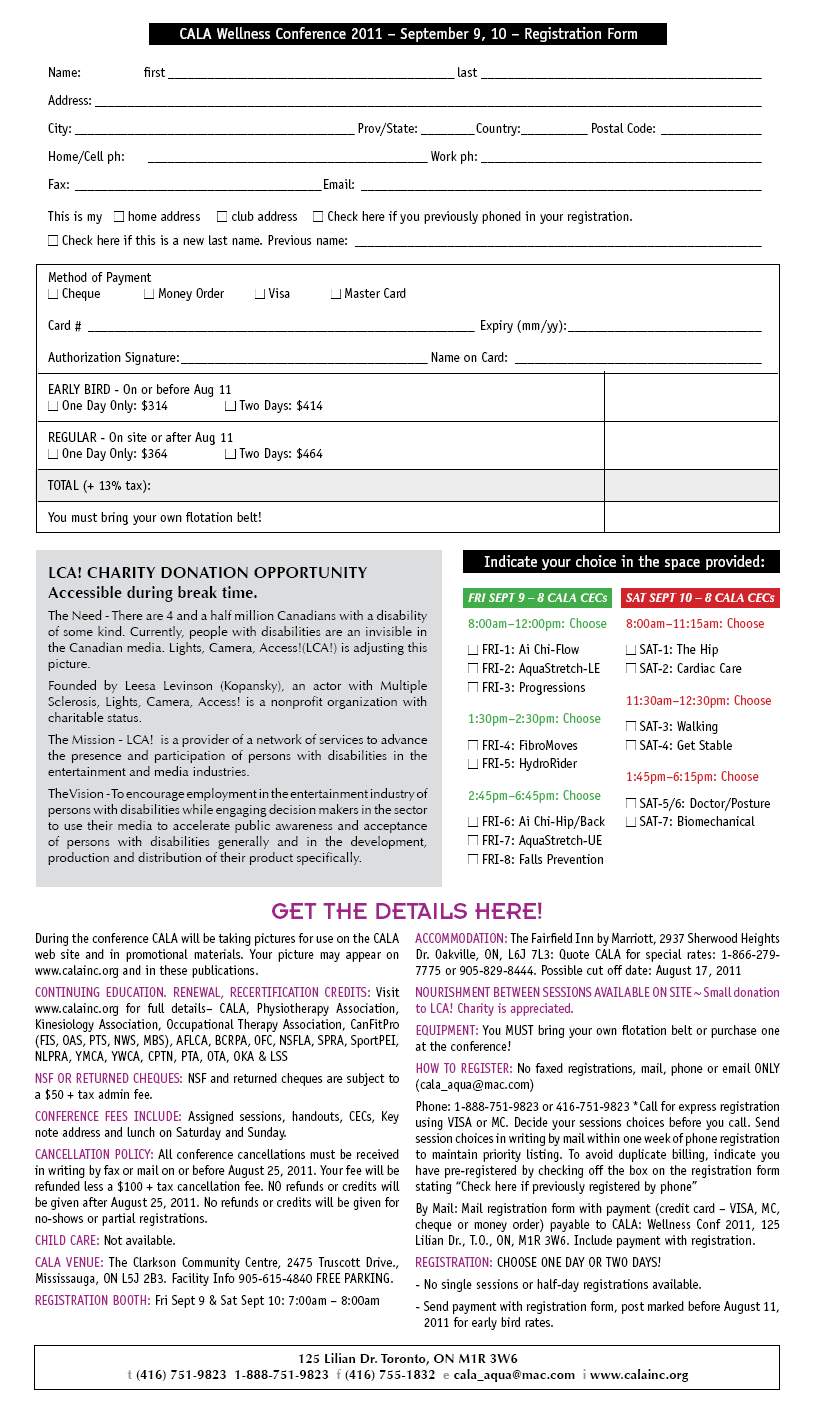 Our CALA Aquafit Presenter Line Up
Connie Jasinskas: B.Sc., B.Ed., M.Sc. PFLC, CFP, CALA Master Trainer, Atri Faculty Member, Certified Laughter Yoga. Providing leadership training in health and fitness and educating international audiences, Connie works with healthy people and others with vehicle or workplace injuries, arthritis, FMS, osteoporosis, and back pain. Connie makes complex information practical, easy to understand. Her sessions are relaxed and enjoyable.
Dylan Harries: B.Rec., B.Sc. HK, C.A.T. with over 18 years of fitness experience, Dylan is the Executive Director for Body Rock Fitness and the HFR Coordinator for Nepean Sportsplex. In his spare time, he is a renowned athletic trainer and performance coach for world level figure skaters. He is CFPro (PTS/FIS), CALA (Trainer), YMCA (T For T), Exter-Ball, Bosu Balance Trainer, Gliding, Gym-Stick, Bender Ball, SPI (2), Mad Dog Spinning (star 2) and NCCP (2) certified.
Kathy Zador: CALA Certified in Healing Waters. A schoolteacher for over 30 years, Kathy has enjoyed a lifetime involvement with water including swimming, boating and beach lifeguarding. Having developed a successful community based 'Fibromoves' program, Kathy is currently working with CALA to design a comprehensive resource package for participants and leaders interested in aqua classes for FMS. Nominated in the Health and Wellness category for the KW Oktoberfest Rogers Women of the Year, Kathy was selected as a Patient Ambassador for Fibromyalgia and has shared her story through the media. Kathy lobbies for the construction of more facilities that are appropriate for aqua therapy programs such as FibroMoves.
Charlene Kopansky: B.Sc. Human Kinetics, B. Ed., CALA Inc. was founded by this dynamic, dedicated individual who embodies a vision of excellence. Charlene taught Biology, Science and PHE. and dance fitness classes at university. Her skills in dance choreography, water running, personal training, fitness and aqua fitness leadership have made her a popular presenter in Brazil, Trinidad and Tobago, Mexico, Australia, Germany, Cuba, Dominican Republic, UK, Israel, South Africa and New Zealand. Awards include 'Top Presenter' and Presenter of the Year-Germany, Volunteer Recognition and Leadership Awards-OFC, Who's Who of Canadian Women in Fitness-Chatelaine Mag., Fitness Leader of the Year-Fitness Institute, and Specialty Presenter of the Year-CFP.
Karl Notargiovanni: B.F.A. Choreography; CALA Trainer; Massage Therapist, Moksha Yoga Instructor, opening a Yoga Studio in Vancouver, May 1, 2011, Karl is skilled at blending several disciplines to connect movement, memory and imagery encouraging the practice of engaging the body through consciousness. Teaching for over 13 years, he has developed a unique edge to his leadership. Karl is passionate about exploring these connections and sharing them through energetic classes and workshops.
Pat Richards: B. P.H.E., CALA trainer. Pat has a passion for water exercise working with special needs clients, competitive athletes, the disabled & those seeking recreational level fitness. She coaches a Dragon Boat Team of Breast Cancer Survivors. Involved in the fitness industry for over 30 years & recently retired from the Fitness Centre Coordinator position at U. of Guelph, Pat believes that all people, young and older, are happiest when they are active.
Carol Weerdenburg: M.Sc. CALA Master Trainer, Gymstick, BenderBall Master Trainer, Certified YMCA-YWCA, CFP, as lead research consultant and presenter, Carol is developing and refreshing a host of projects exclusively for CALA Inc. Current projects include CALA Pre and Post Cardiac Conditioning, Older Adult-Falls Prevention, Aqua PT and CALA~HydroRider Specialty Training and Certification. Get charged up by Carol's authentic, meaningful motivational presentation style that mixes science with the magic of Reiki
Janet Davis: a Registered Physiotherapist, University of Toronto, and co-owner of Club Physio, has over 25 years experience working in the sports medicine field. A Level II Sports Physiotherapist, a CALA Certified Trainer, Certified Acupuncturist and CPTN Pilates Certifier, career highlights also include her former roles as the physiotherapist for the Under-19's Ontario Rugby Union, Medical Director for Koop Cup – Rhythmic Gymnastics Meet, chief physiotherapist for the Ontario Tennis Association, and medical coordinator for the Ontario Rugby Union. Janet enjoys biking and looking after her two young girls in her spare time!
Brian Cook: B.Sc. Human Performance, has extensive experience developing and managing private fitness clubs and employee fitness programs, fitness consulting, and training staff in fitness, sport training and rehabilitation. He has competed in a variety of sports and has trained athletes at all levels. At times a runner, cyclist and swimmer, he has always pursued a regular resistance training routine. Brian has worked as the senior Kinesiologist at physiotherapy and rehabilitation clinics, instructing the Aquatic Exercise Therapy class for MVA, WSIB and private physiotherapy patients. Brian has co-authored several books and training manuals: Strength Basics - Your guide to Resistance Training for Health and Optimal Performance; CF Express Programme Guide to Strength and Muscular Endurance and GET STRONG - A Sensible Guide to Strength & Muscular Endurance. Brian is a CALA Trainer (since 1995!) in the CALA Healing Waters Program.
CECS

CECs

CALA

1 CEC per hour
You can bank your CECS for future use against recertification (8 CECS per year required for recertification.)

BCRPA

Friday September 9th CALA Wellness Conference, hosted by City of Mississauga: 8.0 BCRPA CECs
Saturday September 10th, CALA Wellness Conference, hosted by the City of Mississauga: 7.5 BCRPA CECs

AFLCA

Approved for AFLCA (Alberta Fitness Leadership Certification Association) Continuing Education Credits (CEC) towards recertification: 1.0 AFLCA credit per 1.0 of session time (excluding workouts)

CPTN

canfitpro

SPRA

Trade Show Vendors

Swimwear can be purchased through H2OWear. www.h2owear.com H2OWear has a booth at the Kitchener Ontario CALA Conference each year. At the conference they have a full display of styles and sizes for you to try.

Flattering suits that hold their shape and are guaranteed to resist chlorine!

Top-quality suits that last, with built-in 50+UPF sun protection. Suits with modesty panels for extra coverage or side accent panels for a fit and trim look. Styles with slimming details and tummy trimming solutions. Sizes range from 4 to 32, some with regular and long torso options and three bra types for stay-put comfort. H2O's signature ChloroGuard™ fabric is made of 100% polyester and is spandex free. It withstands chlorine better and holds its shape beautifully. Sample suites below, more styles at www.h2owear.com

CALA Merchandise

http://www.remingtonmedical.com/
Download Gymstick information

http://www.hydroworx.com/
Download description (Microsoft doc)

http://www.opa.on.ca/
Download description (Microsoft docx)

Door Prize Donations and other conference contributions are welcome
Goodlife Fitness
Green Shield